Scottish Canals Falkirk Wheel hire boats with electric outboards
Falkirk Wheel launches eBoat hire fleet powered by ePropulsion
The Falkirk Wheel now has a hire fleet of four electric eBoats as part of its visitor attractions, powered by ePropulsion's silent Spirit electric outboard motors.
The iconic rotating boat lift links the Forth & Clyde and Union Canals. First opened in 2002, the Falkirk Wheel is now one of Scotland's top visitor destinations and is managed by Scottish Canals.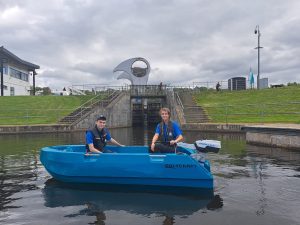 The eBoats were tested in association with Ashton Marine Services, the ePropulsion specialist dealer based near Glasgow. A Spirit electric outboard was loaned to Scottish Canals as part of the hire boat trial.
As a result, the new fleet of four stable Polycraft 300 Tuffy eboats can be hired by the public and will carry three passengers. Visitors can spend 90 minutes peacefully exploring the canal between The Falkirk Wheel and Bonnybridge on their own, free from any outboard noise.
"The eBoats have proved incredibly popular already. The ePropulsion Spirit outboards are simple to use and the perfect way to introduce people to getting on the water and experiencing the canals," explains Ross McMillian, Head of Destinations at Scottish Canals. "Our visitors now expect clean, eco-friendly experiences. With these outboards, there's no noise, no pollution and no risk of fuel spills into the canals either."
The project is an important part of Scottish Canals goal to develop more environmentally-friendly, family-based experiences, as part of its goal to reach zero emissions by 2035.
Hire an eBoat at Falkirk Wheel!
---