G-Series
Lithium Iron Phosphate Battery (LiFePO4)

G-Series Batteries
96V
I-Series High Capacity Long Lifespan Connected
Unlock superior performance with our G-Series batteries, perfectly optimised for ePropulsion's I-Series motors. Combining durability with high-capacity power output, these batteries provide a reliable and efficient energy solution for your marine adventures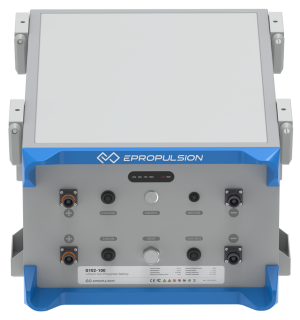 G102-100 Battery
Made for ePropulsion Motors
Maximum Safety
Constructed with Lithium Iron Phosphate (LFP), the integrated smart Battery Management System (BMS) ensures maximum user safety.
High energy density
3 times higher energy density and 70% less weight than lead-acid batteries.*
Extended Lifespan
Boasting an impressive 3,000 cycles at 80% DOD, the G-Series LiFePO4 batteries outlast traditional lead-acid options.*
Simple Installation
The G-Series connectors can be fitted single-handedly, eliminating the need for any extra tools.
1C Fast Charging Rate
Enjoy quicker recharges with the 1C fast charging rate, designed for minimal downtime and more time on the water.
Waterproof to IP67
The G-Series batteries are waterproof to IP67 standards, offering peace of mind for all-weather maritime use.
Certified
The G-Series batteries hold CE, UKCA, FCC and UN38.3 Certifications
Specs
G102-100
Chemistry
Lithium Iron Phosphate (LiFePO4)
Rated Voltage
102.4 V
Capacity
10240 Wh / 100 Ah
Battery Life
3,000 cycles at 80% DOD
Weight
100 kg
Dimensions
680 x 500 x 300 mm (26.8 x 19.7 x 11.8 in)
Cut-off Voltage
83.2 V
Final Charging Voltage
115.2 V
Max Continuous Discharging Current
100 A
Serial Connection
N/A
Parallel Connection
Up to 4 in 1 cluster. Multiple clusters are possible in the system
Cell Configuration
32S1P
Charging Temperature
0 to 55℃
Discharging Temperature
-10 to 60℃
Communication
One CAN for ePropulsion motors / One CAN (Two ports) for parallel
batteries / One CAN for charger
Shipping Classification
UN3480, Class 9, UN38.3 Certified
Approvals
CE, UKCA, FCC
Warranty (Non-Commercial Use)
2 years
Where to buy?
Please use our Dealer Locator to find your nearest stockist of the ePropulsion range.