Vaquita
Lightweight motor for Paddleboards and kayaks
The VAQUITA electric motor, specifically designed for paddle boards and kayaks, is a superlight solution weighing just 4kg in total.
Perfect for those new to paddle touring, it's a reliable safety partner, ensuring you can always make your way back home. The VAQUITA motor's lightweight design allows for easy transportation in your kayak or SUP during your paddling adventures. Its compact size barely takes up any room on board, and it can conveniently fit into a backpack.
The motor itself weighs just 1.5 kg
The battery adds an additional 2.5 kg
Capable of propelling your craft up to 11 KM/H
Installation is a breeze
Compatible with every SUP and kayak model
Provides a fun-enhancing element to your outing
Assures your safe return home!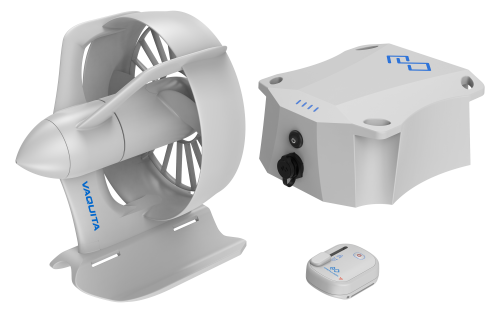 Excellent performance & range

A Vaquita battery lasts for:
70 minutes at full power
5 hour at half speed
It is great help when the wind picks up or tide is against you.
Easily fits most SUPS & kayaks

Coming with two fin box adapters and a universal adapter, Vaquita motors can be easily installed on most paddle boards and kayaks. It takes just two minutes to to set up in 4 easy steps.
Go further with an electric SUP motor
Fitting an electric motor for paddle boards and kayaks means you can extend your paddling range. Explore that river or harbour knowing that you have some extra power to get back safely and easily.
At full speed VAQUITA kay motor travels 9km in 1 hour. At low speed of around 5km/h, it lasts 9 hours, extending the travel range to 45km.
Overboard protection
With built-in sensors, VAQUITA stops right away if you fall over board.
Wireless remote control
Vaquita motor is simple to control. It features:
8 speeds forward
an LED indicator
emergency stop function
The elastic wristband is skin-friendly and comfortable to wear.
Indicator lights
The 4 LED indicator lights keep you informed of the real-time status of the battery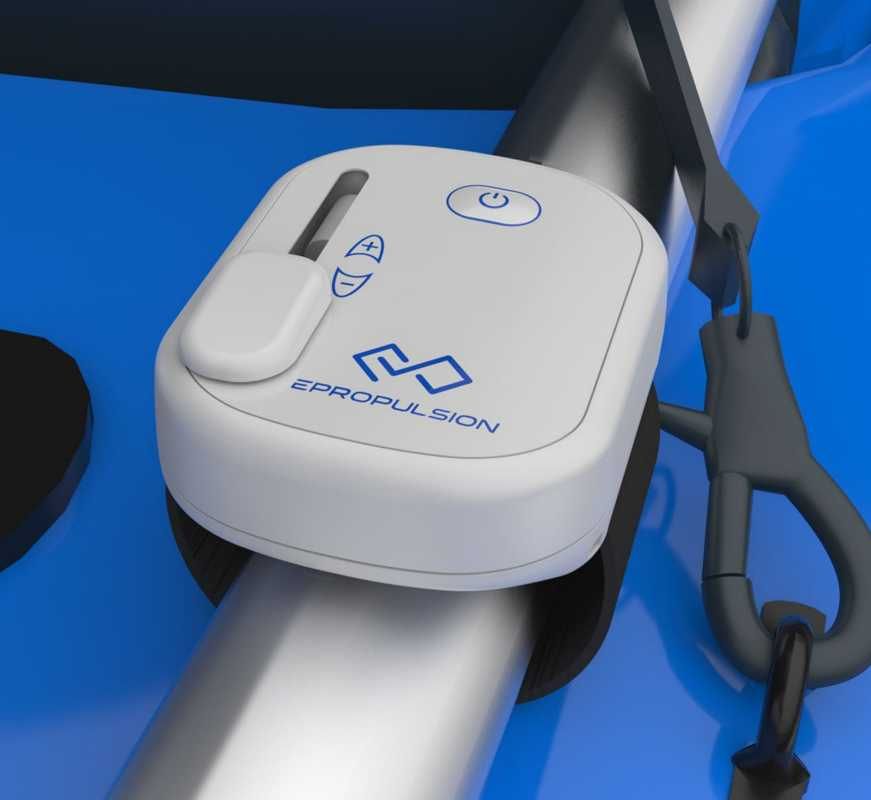 Specs
Vaquita motor
Technical info
Input power:
330 W
Weight:
4 kg in total
Fin type:
US fin, SUP fin, Universal adapter
Wireless remote:
8 speeds forward
Run time
25% throttle - 8 hours
50% throttle - 5 hours
Full throttle - 1 hr 10 minutes
Dimensions:
Motor: 16.2 x 16.7 x 18.2 cm
Battery: 21.6 x 17.8 x 10 cm
Warranty:
1 year, basic motor & battery

Vaquita battery
Battery power:
324 Wh, Lithium-ion
Battery life:
500 cycles at 80% DOD
Charger:
Vaquita charger
Charging time:
3 hours
Rate voltage:
21.6 V
Battery management system
Yes


Safety
Overboard protection
Yes
Waterproof:
Rated IP67
Propeller collision emergency stop
Yes
Idling protection
Yes
Low battery indicator
Yes
Where to buy?
Please use our Dealer Locator to find your nearest stockist of the ePropulsion range.