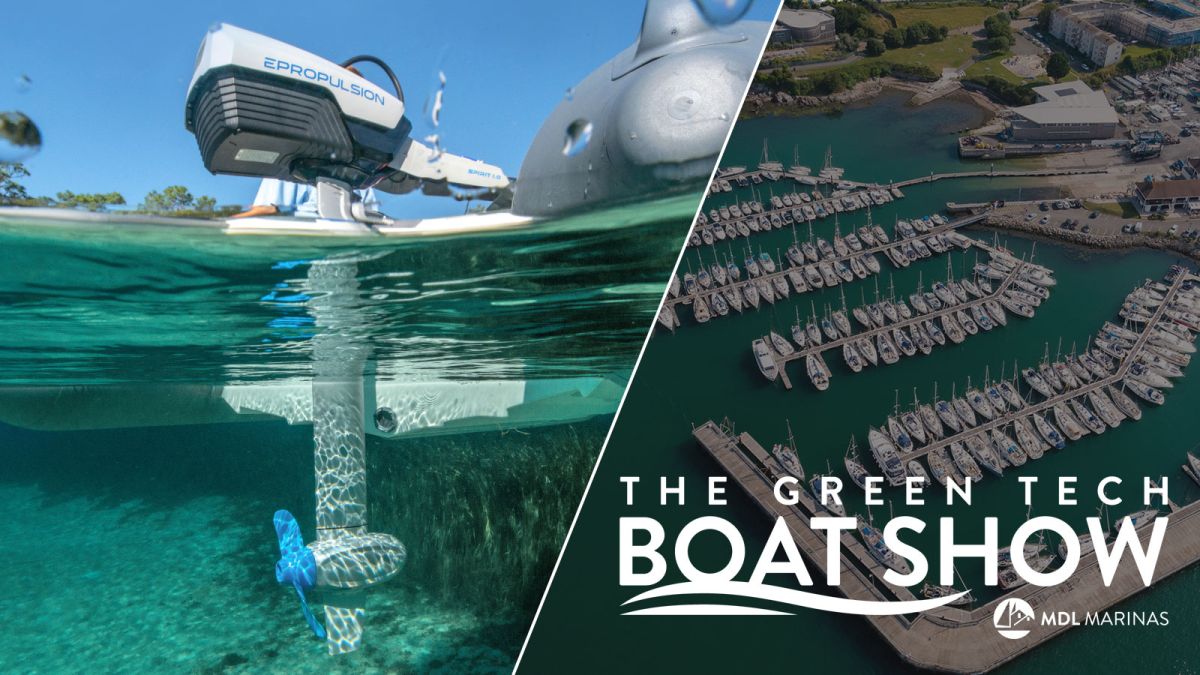 Green Tech Boat Show 2023  
ePropulsion sponsor Innovation Hub at the Green Tech Boat Show 2023  
Southampton, United Kingdom — 15th to 17th June 2023
Returning to the event for its third year, ePropulsion are sponsoring the new Innovation Hub and Media Centre at the Green Tech Boat Show, 21-23 April 2023.
Visitors to the Innovation Hub will be able to attend a host of daily presentations and demonstrations from exhibitors including the latest research and cutting edge clean marine innovations that are contributing to combatting climate changes and protecting the oceans.
ePropulsion will be showing the newly launched I-Series range of 'plug and play' electric inboard motors and Steve Bruce, ePropulsion UK will be speaking about the latest electric propulsion technologies and batteries for leisure cruising yachts on the Innovation Hub stage on Saturday 22 April.
"With the Green Tech Boat Show now a key part of the South Coast Boat Show in Southampton, it's the perfect opportunity to reach many more boaters and boat builders.
The industry is changing fast and ePropulsion is delighted to be involved as a sponsor. We see it as a key role, as one of the leading pioneers in the sector, to help promote the various ways to make the transition to electric propulsion."
The I-Series motors offer a power range between 10kW and 40Kw, ideally suited for leisure sailing yachts and motor boats up to 24m (78').  Significantly lighter which increases efficiency, the I-Series motors replace the equivalent traditional 20HP to 80HP diesel engines, and are easy to install and connect directly to a shaft drive. A fully integrated system, it contains the motor, gearbox, motor controller, vessel controller and thermal management inside a robust, compact housing, with no additional moving parts required. IoT connectivity enables intelligent, safe boating and remote monitoring.
Also making a first debut at the Green Tech Boat Show will be ePropulsion's new high performance E-Series E60 and E163 lithium iron phosphate batteries (LiFePO4).
With three times higher energy density and 70% less weight than lead-acid batteries, these new E-Series batteries are perfect for smaller vessels with limited storage space. IP67 waterproof rated, the E60 and E163 are designed for use with ePropulsion's powerful long range Navy 3.0 and 6.0 outboards.
Engineered for ease of use and simple installation, the connectors can be attached with only one hand with no additional tools are required. The intelligent battery management system (BMS) features a display that shows state of charge, voltage, current and alarm information for maximum safety. The E60's compact form factor and light, double-layer plastic housing can easily be transported and installed by one person, while the E163 is designed for high reliability with an all-metal housing that is impact resistant and drop proof.
---