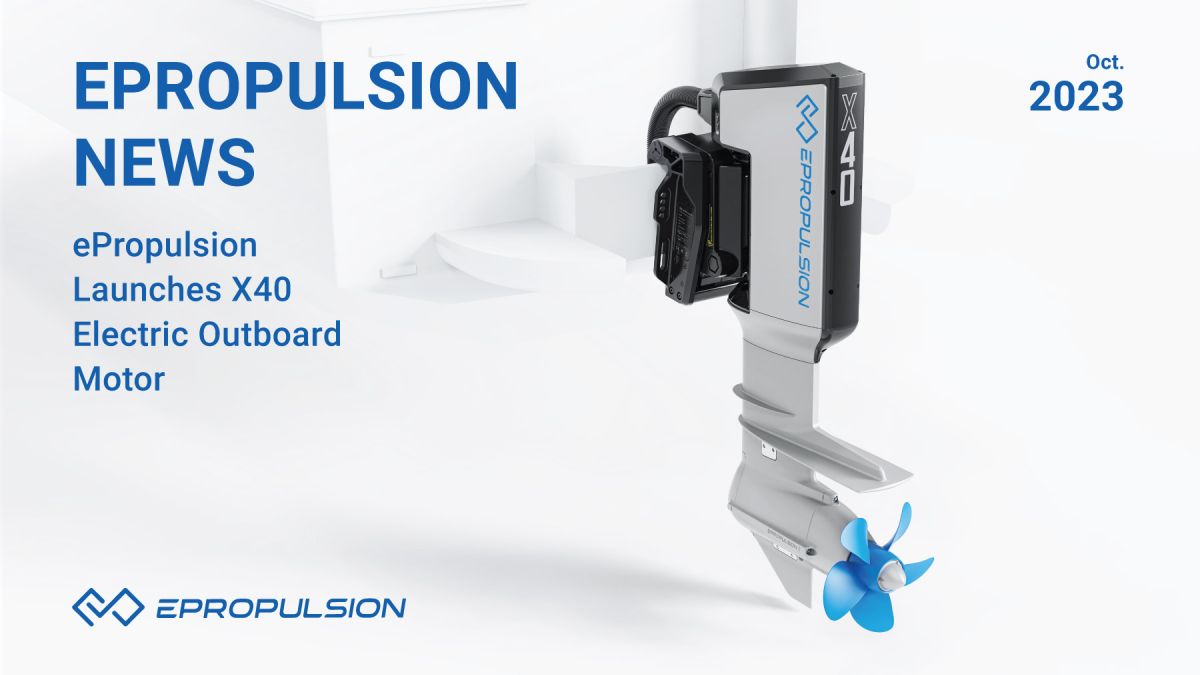 ePropulsion Debuts Groundbreaking X40 Electric Outboard Motor
ePropulsion, a pioneering force in the realm of marine electric propulsion technologies, is delighted to unveil its state-of-the-art X40 Electric Outboard Motor. The much-anticipated launch coincides with this year's Fort Lauderdale Boat Show, occurring from the 25th to the 29th of October.
Superior Power and Efficiency
The X40 is an engineering marvel, tipping the scales at 20% lighter than traditional motors, whilst boasting an impressive 40 kW of power. Utilising proprietary algorithms developed by ePropulsion, the X40 ensures optimal hydrodynamic efficiency by fine-tuning over 20 key parameters. This not only provides smoother sailing but also significantly improves energy efficiency.
Streamlined and Integrated Build
The X40 doesn't merely excel in performance; its design is equally remarkable. The sleek, compact unit integrates electric steering, power trim/tilt, Electric Control Unit (ECU), and motor controller, allowing boaters to maximise the use of stern space for both work and leisure. The ePropulsion Smart System Architecture (eSSA) assures simple yet robust system configuration, with a modular build that can be effortlessly integrated with renewable energy solutions to further bolster its sustainability credentials.
User-Friendly and Intelligent Controls
Equipped with an intuitive control interface, the X40 caters to both newcomers and seasoned sailors. Its digital helm and smart throttles provide instantaneous feedback, while the electronic steering eliminates the need for cumbersome hydraulic components. This refined steering mechanism is more than a simplification—it opens the door to Advanced Driving Assistance Systems that enhance safety and redefine aquatic navigation.
Ingenious Additional Features
The X40 distinguishes itself with innovative vibration dampening and frequency resonance isolation technologies, dramatically decreasing both vibrations and noise levels when compared to traditional outboard motors. Furthermore, its cutting-edge Connectivity Service enhances the overall boating experience by delivering real-time updates, in-depth monitoring, comprehensive reporting, and accurate trip tracking.
Safety Assured
Built to withstand the rigours of marine life, the X40 operates on a reliable 96V electrical platform and adheres to the latest IEC standards. With IP67 waterproofing, it guarantees a minimum service life of 5,000 hours.
Wide Range of Compatible Accessories
The X40 supports an extensive array of accessories, such as the ePropulsion Smart Throttle, Digital Helm, Smart Display, Propellers, G102-100 Battery, Battery Charger, Solar Charger Controller, MPPT, and DC-DC converters.
Danny Tao, CEO and Co-founder of ePropulsion, commented,
"The X40 represents a quantum leap in the electric outboard sector, showcasing ePropulsion's commitment to groundbreaking R&D. Our goal is not merely to match the capabilities of traditional internal combustion engines but to surpass them, delivering heightened performance along with a quieter, cleaner, and more potent propulsion alternative."
For those unable to attend the Fort Lauderdale Boat Show, rest assured the X40 is expected to set new benchmarks in electric boating technology.
---